5/5 STAR REVIEW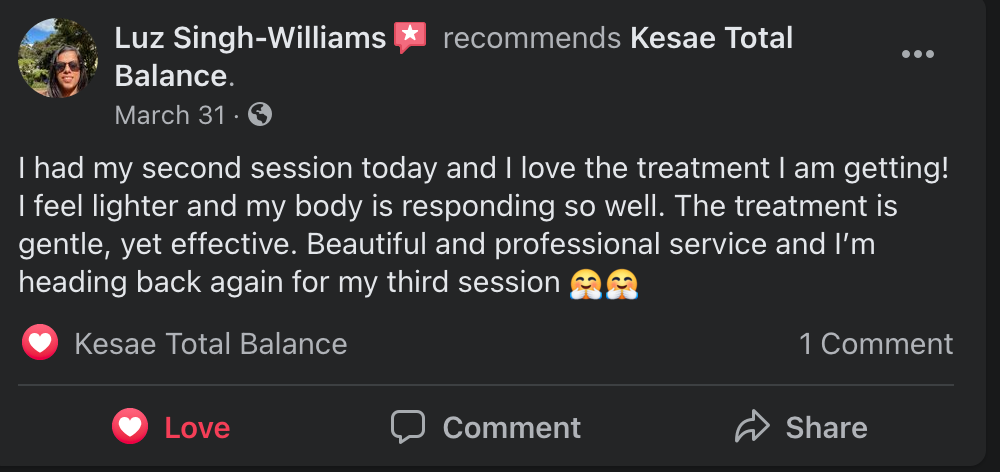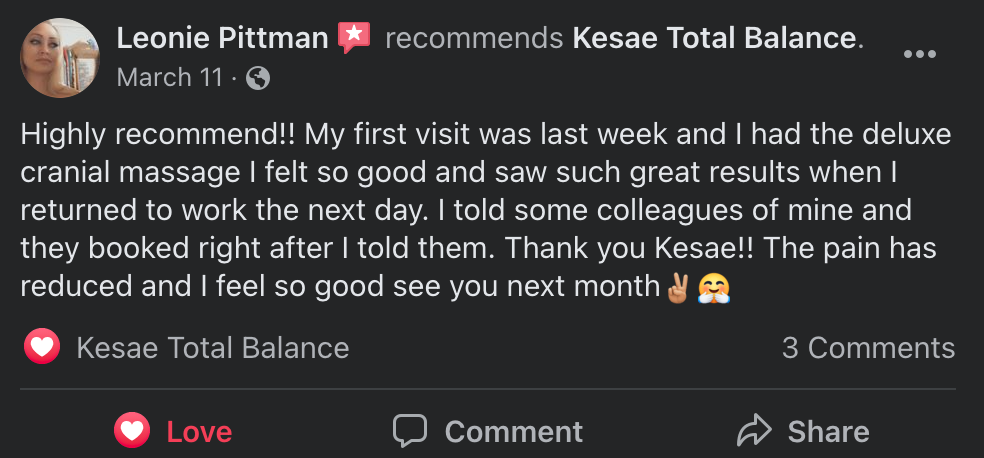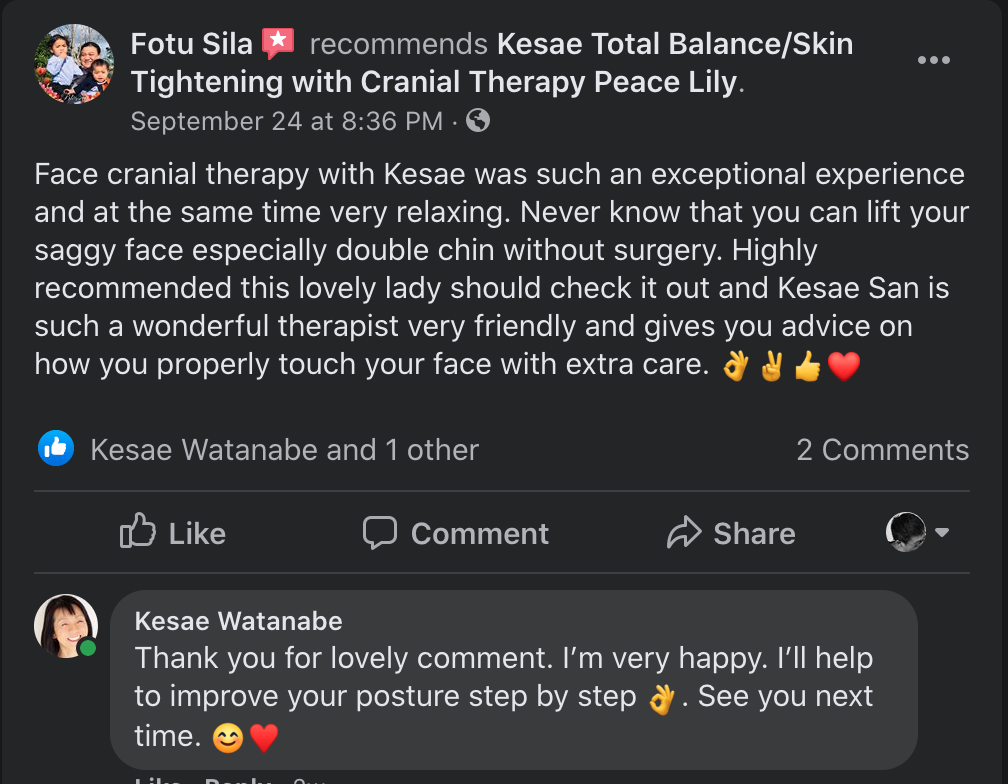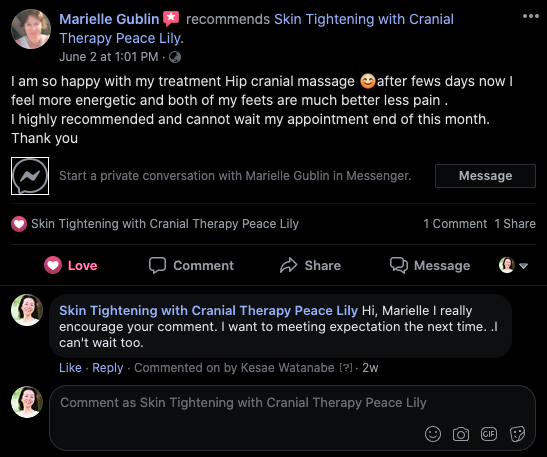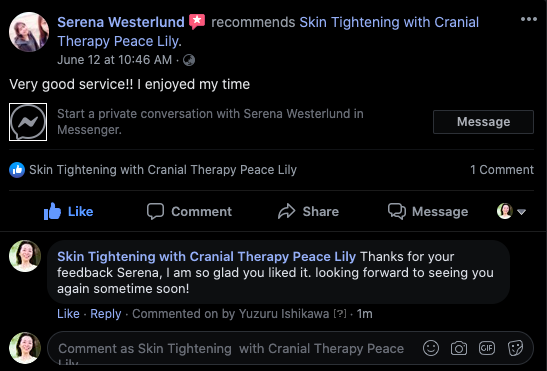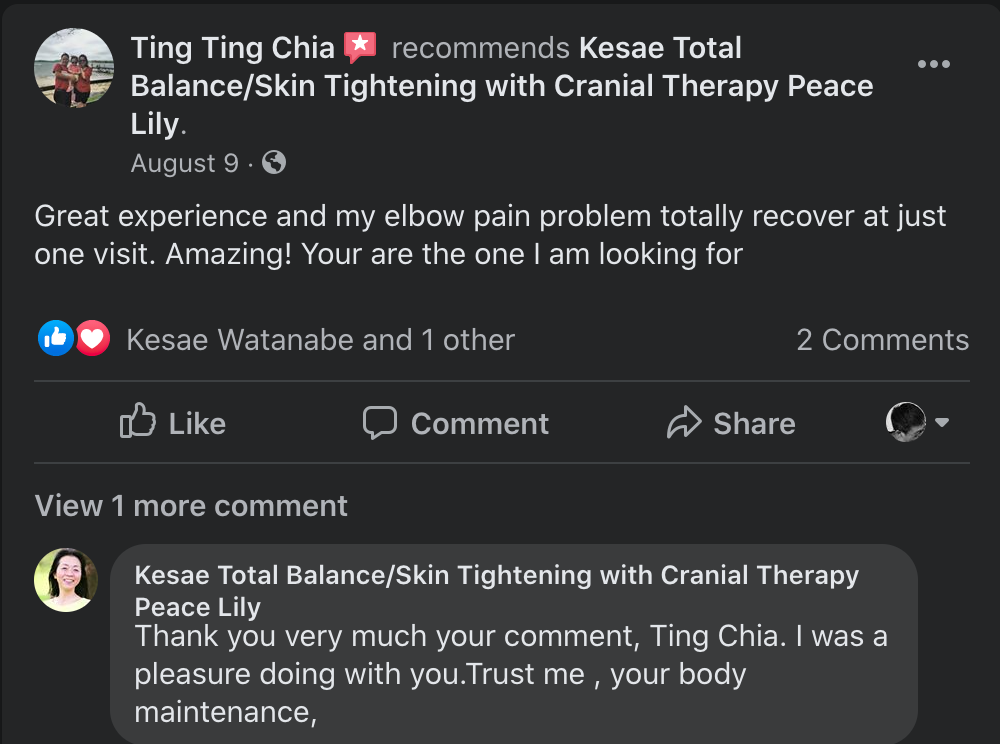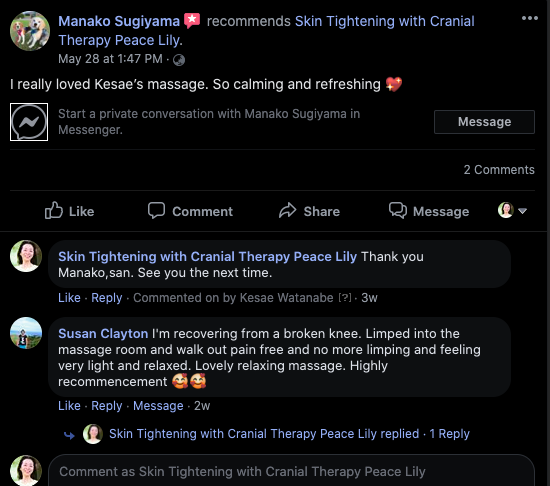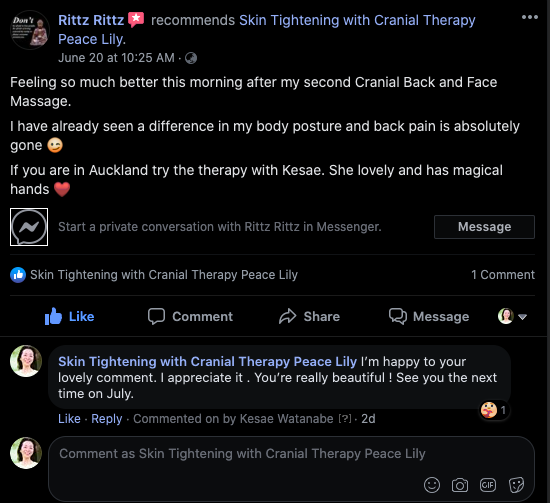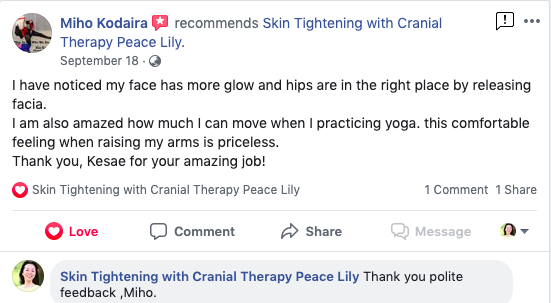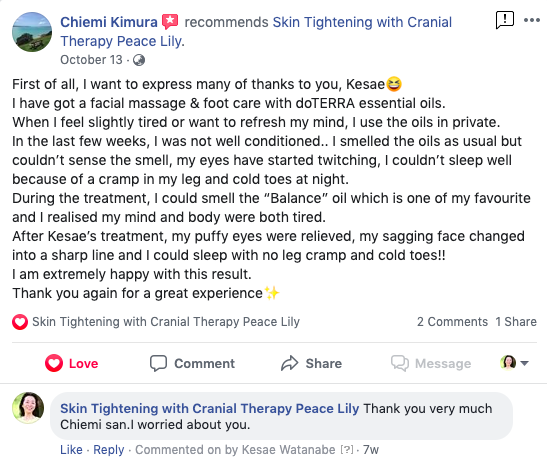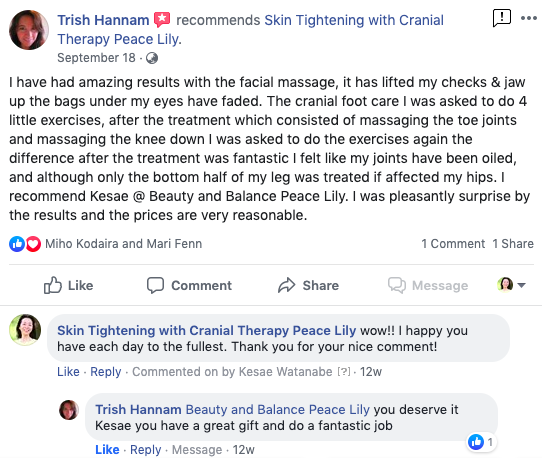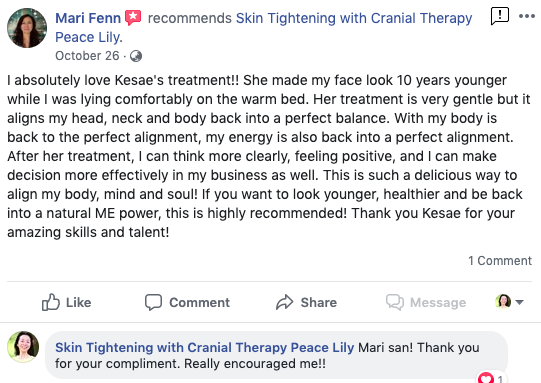 Our Happy Customers
How We Help
Back Pain

Jaw Pain

Hallux Valgus

Sagging Chin

Dull Skin

Finger Numb

Headache
Eye Bags

Double Chin

Laugh Lines

Shoulder Neck Pain

Sleep Problem

Stress

Stoop
At Kesae, we help women who seek to focus on the total balance of their body by improving their body balance, skin conditions, and posture improvement by Japanese Cranial Massage.
On your arrival at our salon, in order to fully understand your concerns, we will discuss a-year and two-year goals as to "what you want to be like" through thorough consultation.
Then, we will start the Cranial Massage treatment in a room filled with aromatic scents.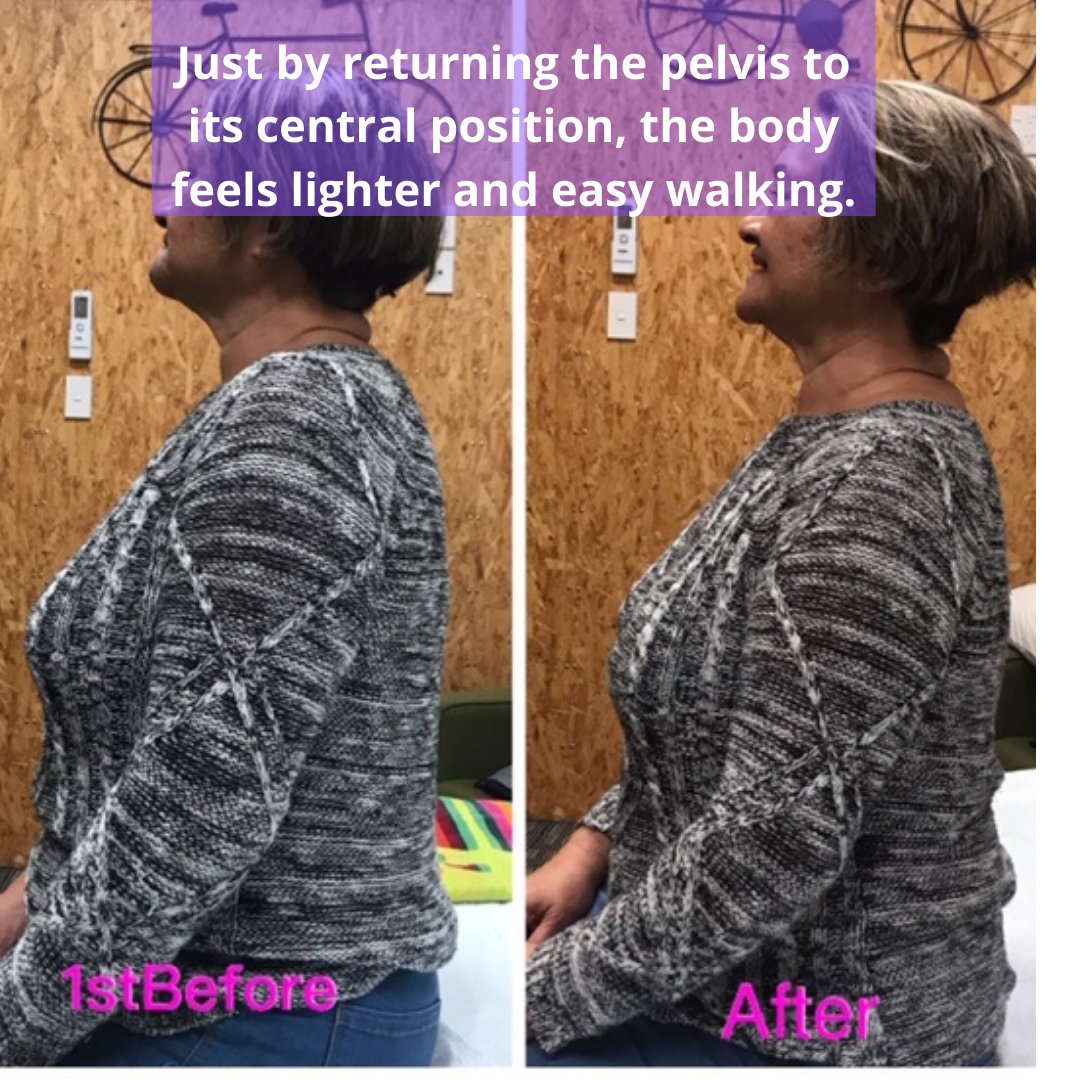 Call Now or Text 021 0229 2875
For New Customers
In order to make your skin fresh and moist as well as improving your posture and realigning your whole body, Japanese Cranial Massage Therapy utilises the physiologic ability of your body through a combination of beauty care and cranial osteopathy in a personalised way, where your cranial therapist designs a renewed you using hand techniques that improve your skin condition and create beautiful skin.
Signature Treatment
Kesae guides you to become what you want your body to be through the shortest route by determining the goal for each session. We help you maintain confidence and pride in your body in a year, three years, and even five years.
Kesae helps rejuvenate the body from the inside to fix skin problems such as pores, sagging, wrinkles, laugh lines, dryness, and dullness as well as anxiety, stress, cranial nerves, jaws problems, Soft Tissue Injuries – Head, Neck, Shoulders, Back through hand-on treatment.
It activates the brain by releasing the stress on the skull (cranial bones) to improve the flow of nutrients and blood. The activation of the brain can be observed as a glint in the eye, and you will clearly see the difference in your tightened face even after only one session. It is one of Cranial Therapy's unique benefits that you will find yourself smiling with happiness.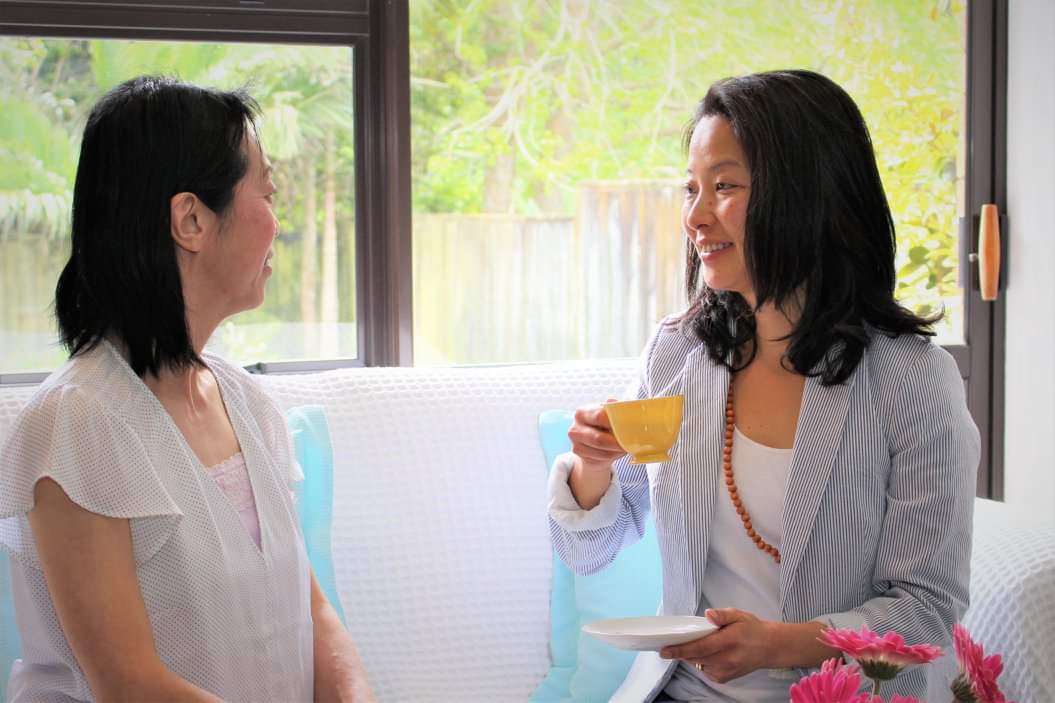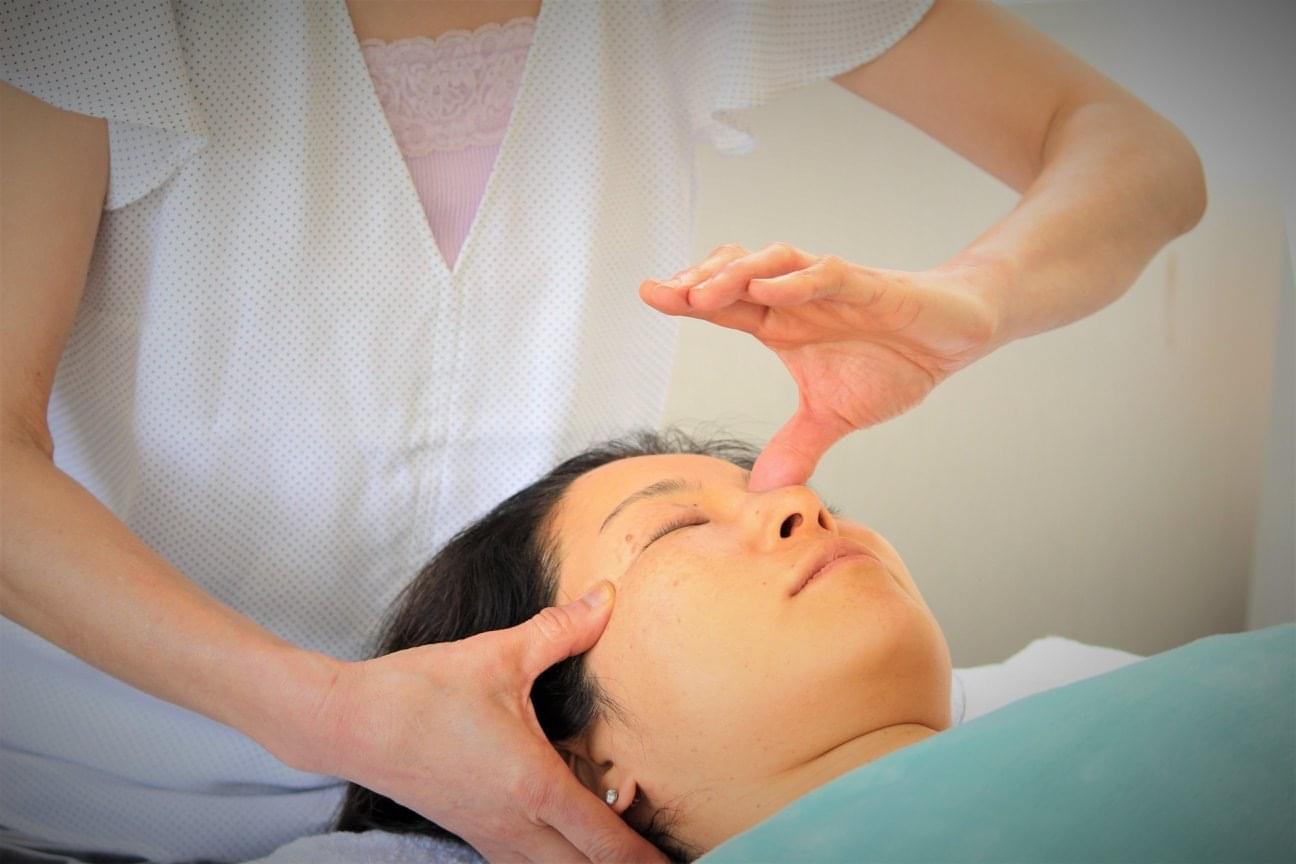 Japanese Cranial Massage
Kesae's hand techniques combine three types of simple techniques: 美顔Bigan Cranial Facial, Hand & Arm Massage, and Foot Care. It is a skeletal corrective procedure that we design specially for your body by assembling multiple techniques required for your condition on the day to work toward the periphery of your body. In fact, the periphery plays an important role in positioning the axis of the body and the centre of the face.
Cranial Hand Care and Foot Care improve the flexibility of the joints of knees, calves, soles, and wrists that support the body, and recover the resilience of fascia and muscles. Its effect creates ripple reactions through fibrous tissues that run across your body to the pelvis, shoulders, neck, and skull as well as your face. We take advantage of this body mechanism to provide treatment that doesn't cause pain but solves the problem. As a result, the organs start to work to their respective rhythms, which increases metabolism and improves conditions such as cold feet and hands.
Restoration Of Physiologic Functions
Kesae believes that the best treatments are made possible only with detailed counseling. When you say "dry skin", there can be various causes for the condition. – Lack of sleep – UV – Diet.
That's why at Kesae we ask you things that you are not satisfied with about beauty and health cares that you have done to date, your concerns about your skin, your body, and your failure stories, and discuss them in detail based on your treatment record. It will be helpful if you can tell us "what you want to be like". After each session, we give you advice on your lifestyle and a 30-second exercise program, to help maintain the benefit of the treatment until the next session. It is a quick care exercise that you can do during breaks at your office or even in your bed when you wake up in the morning.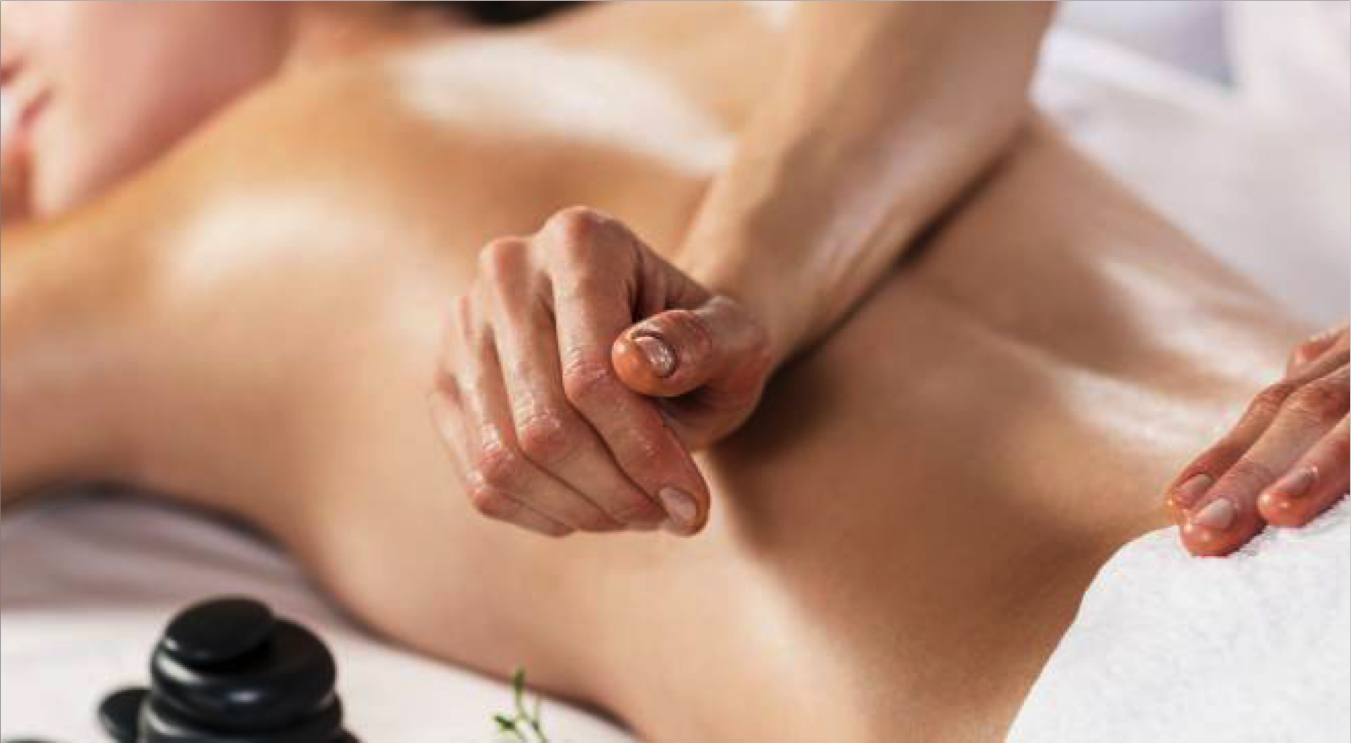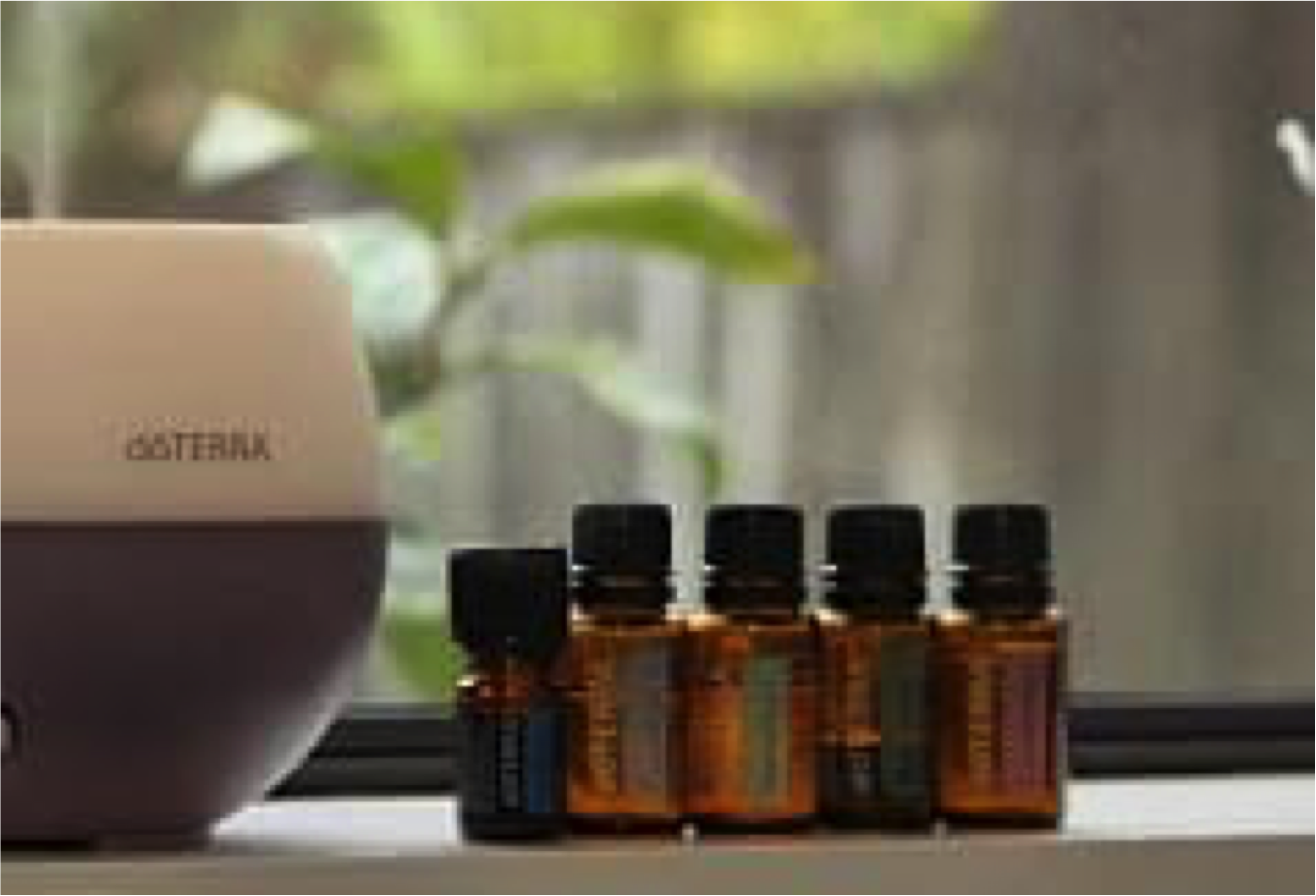 DOTERRA ESSENTIAL OIL
There are countless essential oils that claim to be organic around the world. At Kesae's, we have specially selected doTERRA essential oils because of their safety, reliability, and, more than anything, their benefits for the skin and health. When you apply essential oils on your body, they penetrate the skin and enter the capillaries through which they circulate around the whole body, while their smells are communicated to the brain through the nose.
The effect of smells on the brain is more significant than you may imagine. It doesn't only dissolve frustrations and concerns but also supports us by preventing and treating problems that could lead to various skin troubles, such as malfunction of internal organs, imbalanced hormones, and fine-tuning of the immune system.
We especially would like you to know is that smells that stimulate your instinct are those that your body and mind are seeking. When you receive Cranial Therapy surrounded by real scents, it eases fatigue built up deep in your mind.
OUR PASSION FOR MASSAGE
Bigan Cranial Facial Massage Treatment (Cranial Facial) involves no surgery, superficial decorations, or intrusive intense motions. It has absolutely nothing to do with showiness. It's a gentle hand-on treatment performed in tune with your breath. Your therapist's hands and mind focus on the muscles and bones beneath your skin.
You will surely meet a New You after our treatment, as it helps change the weak and stagnating rhythm of your body functions and guide your body to function in a natural flowing rhythm.
We strive to give the utmost satisfaction to our clients and if you are not satisfied with the work performed, we will make every effort to ensure we rectify the situation. Should you have any questions or concerns, please contact us within 7 days so we may address these concerns in a timely fashion. At that time, we will reschedule you and make any changes or adjustments indicated. We will gladly make any adjustments at no cost to you.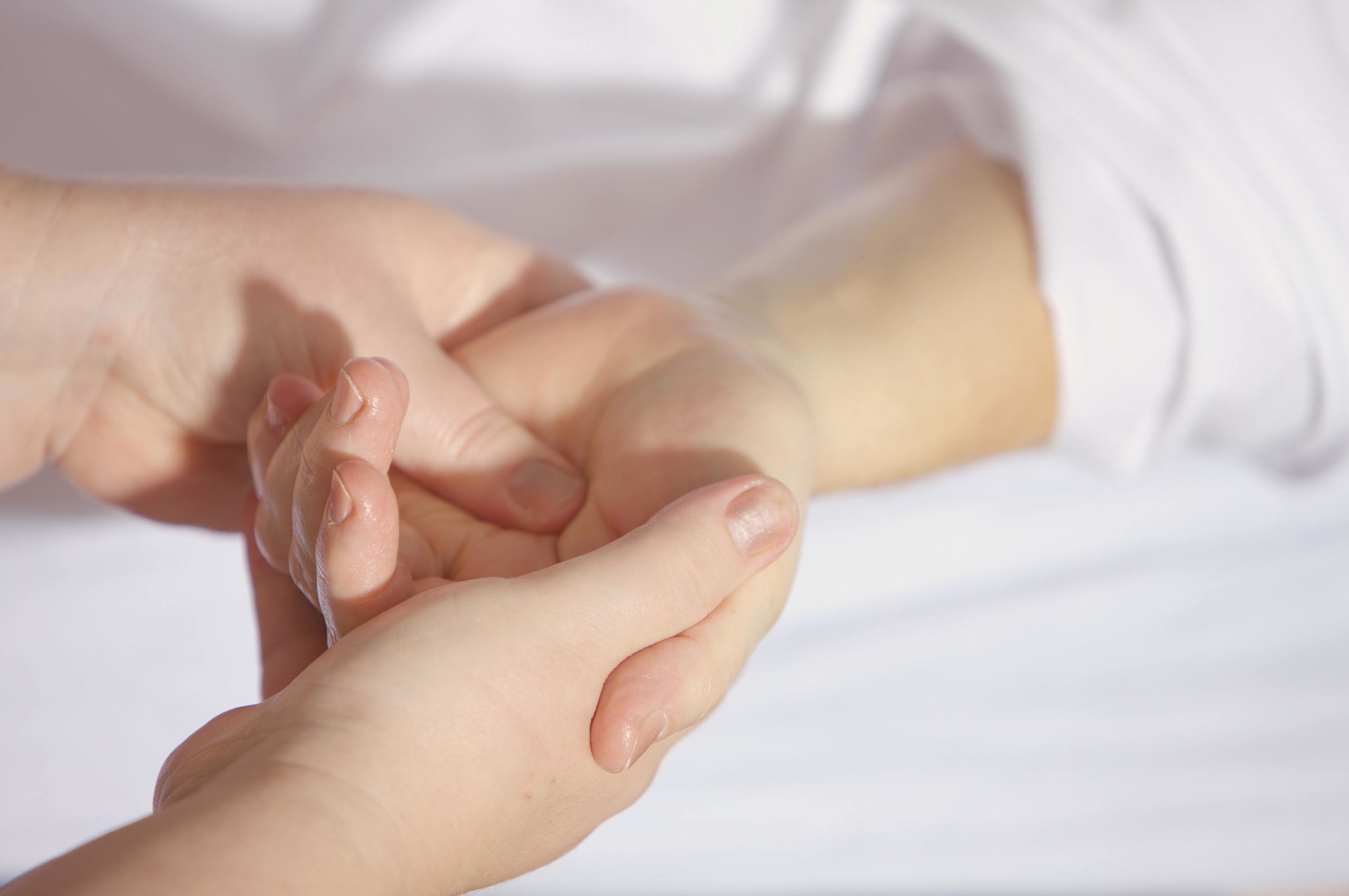 Call Now or Text 021 0229 2875
Our Japanese Cranial Massage Therapy Treatments
At Kesae, we have signature treatment programs specified to the unique physical, mental and emotional requirements of each guest, aided by the highest-quality organic massage oils and fine aromas. Prior to the treatments, enjoy some mineral water with your choice of Doterra's Drinkable citrus essential oil while Kesae asks you about your concerns and requests, based on your questionnaire. Then, we will set the goal for the day. Please advise our staff upfront for any special physical conditions such as medical difficulties.
顔+手足+骨盤 KESAE CRANIAL MASSAGE
The Kesae Cranial Massage introduces the cranial treatment on the face, hands, and foot so that it will speed up the tightening process of facial skin, aiding body's mobility and alignment.
With boosting blood circulation and detoxing, we will make your skin beautiful, your body balanced from the inside as well as releasing further tension of your muscles.
Rather than relying on makeup, your skin is just radiant and glowing with blood circulation, drawing out your true potential from within through our unique cranial technique.
120min / $280
美顔 THE BIGAN FACIAL CRANIAL MASSAGE TREATMENT
Bigan (head and face shaping) therapy is a very unique and revolutionary facial and scalp massage technique Kesae mastered in JAPAN and treatment with only a select few practitioners located in NEW ZEALAND.
This technique encourages the flow of the cerebrospinal fluid. This circulation helps to keep moisture on your skin. There are individual differences but people find a clear change after the first treatment.
60 min / $130
顔+骨盤 DELUX CRANIAL MASSAGE
美顔 THE BIGAN FACIAL CRANIAL MASSAGE TREATMENT and 骨盤矯正 Kotsuban Hip Cranial Massage.
With the great explorer of the truth in our body, you feel relaxed and lighter and you see the change more clearly on your face and body, quickly with combined treatment, particularly for sagging chin and laugh lines, pelvic correction, posture improvement.
90min / $210
骨盤矯正 KOTSUBAN HIP CRANIAL MASSAGE
This KOTSUBAN Hip Cranial Massage introduces cranial treatment on Senkotsu (Sacrum) to be realigned so that the optimum balance of the body, posture will come back. Treatment on hip, Kotsuban, helps to control hormone balance which helps the issue of irregular period.
This technique is particularly effective for those suffering from back pain, hip pain, posture bending, stress on your physical body, irregular period, and emotional stress.
This treatment helps to ease the natural anxieties and tensions endured alongside the beauty of childbearing because of the realignment of the core of your body.
45min / $130
Your Cranial Massage Therapy Testimonials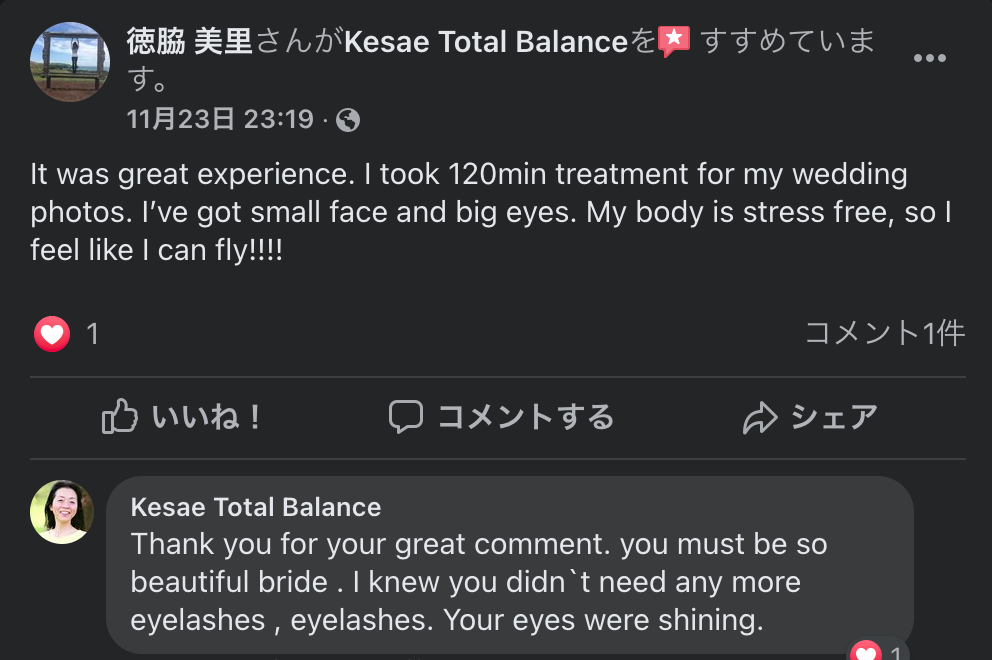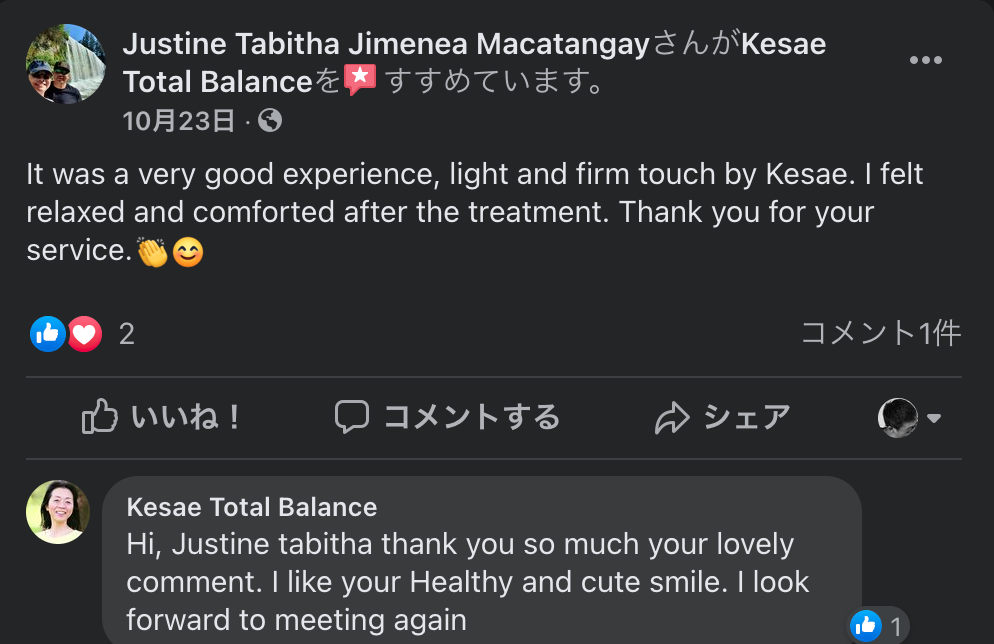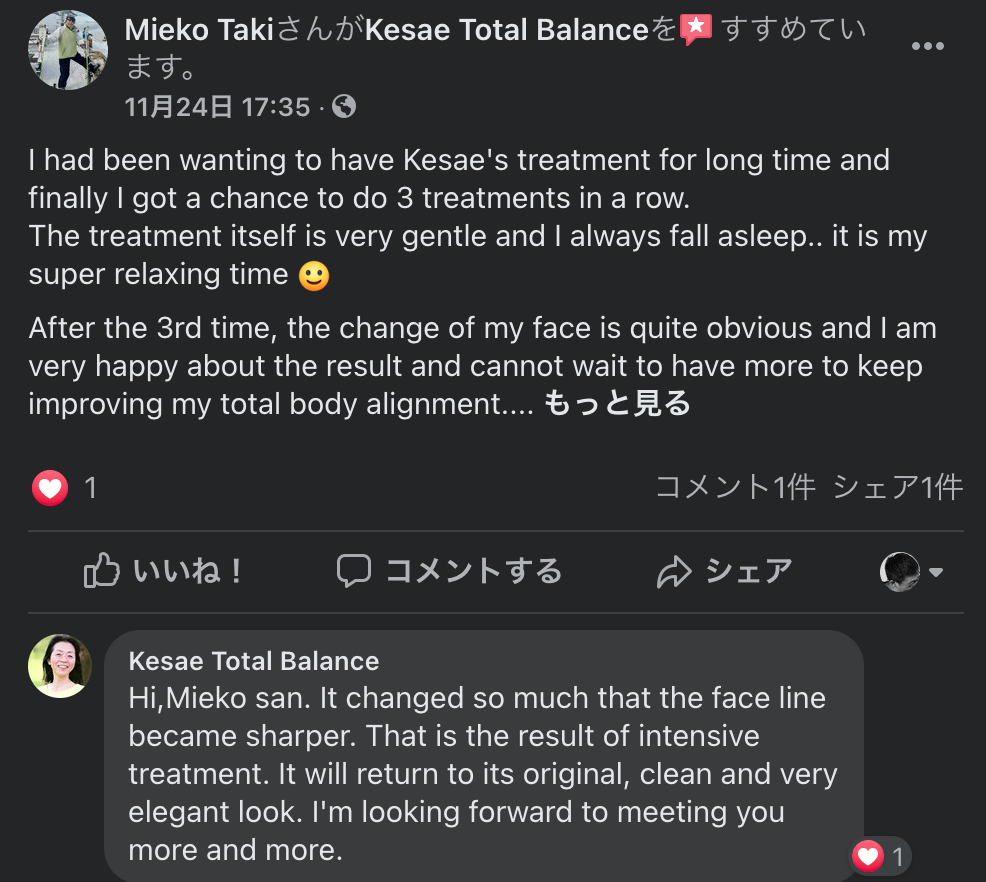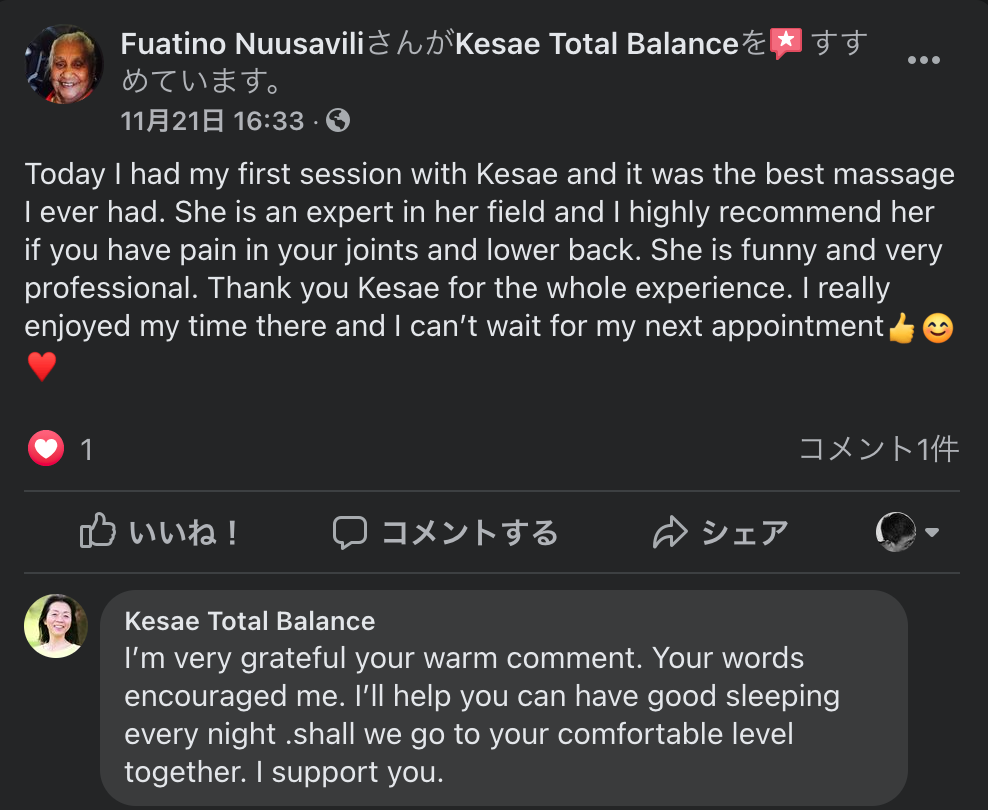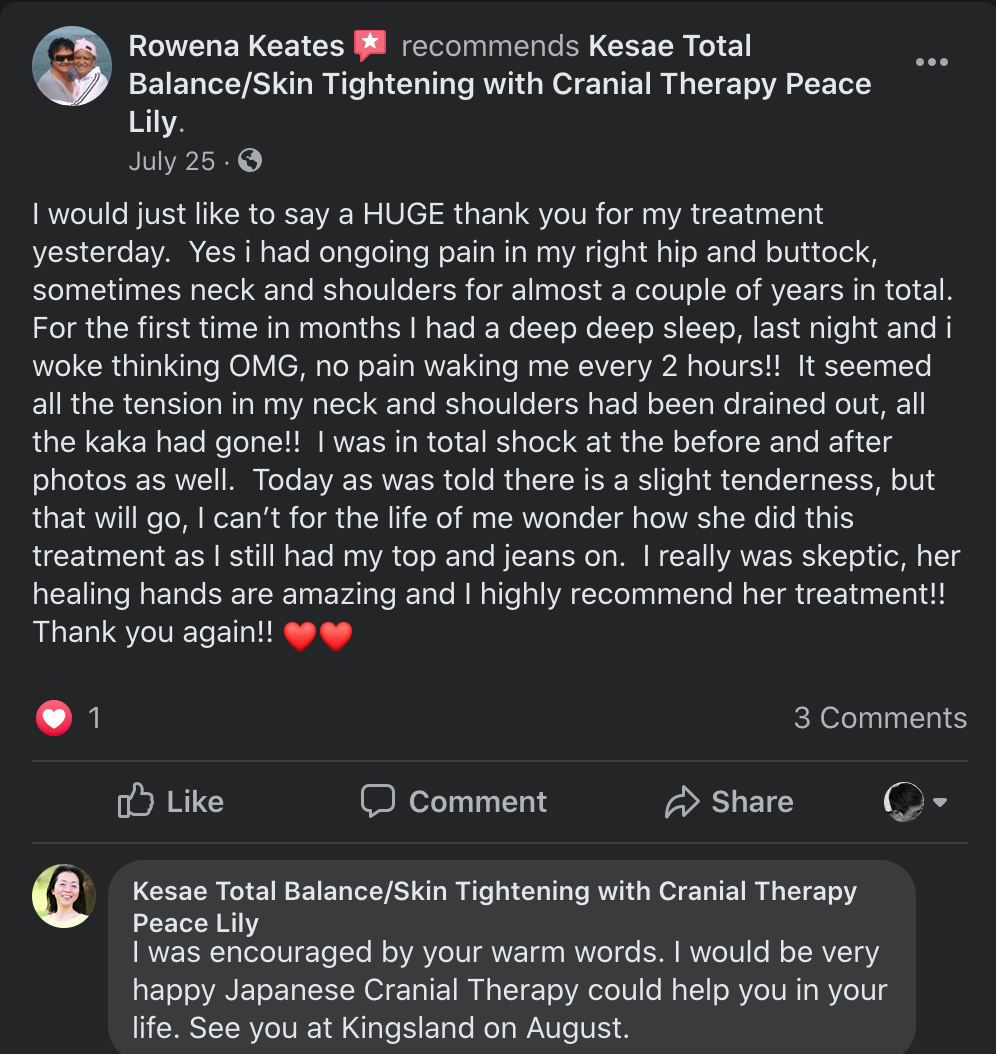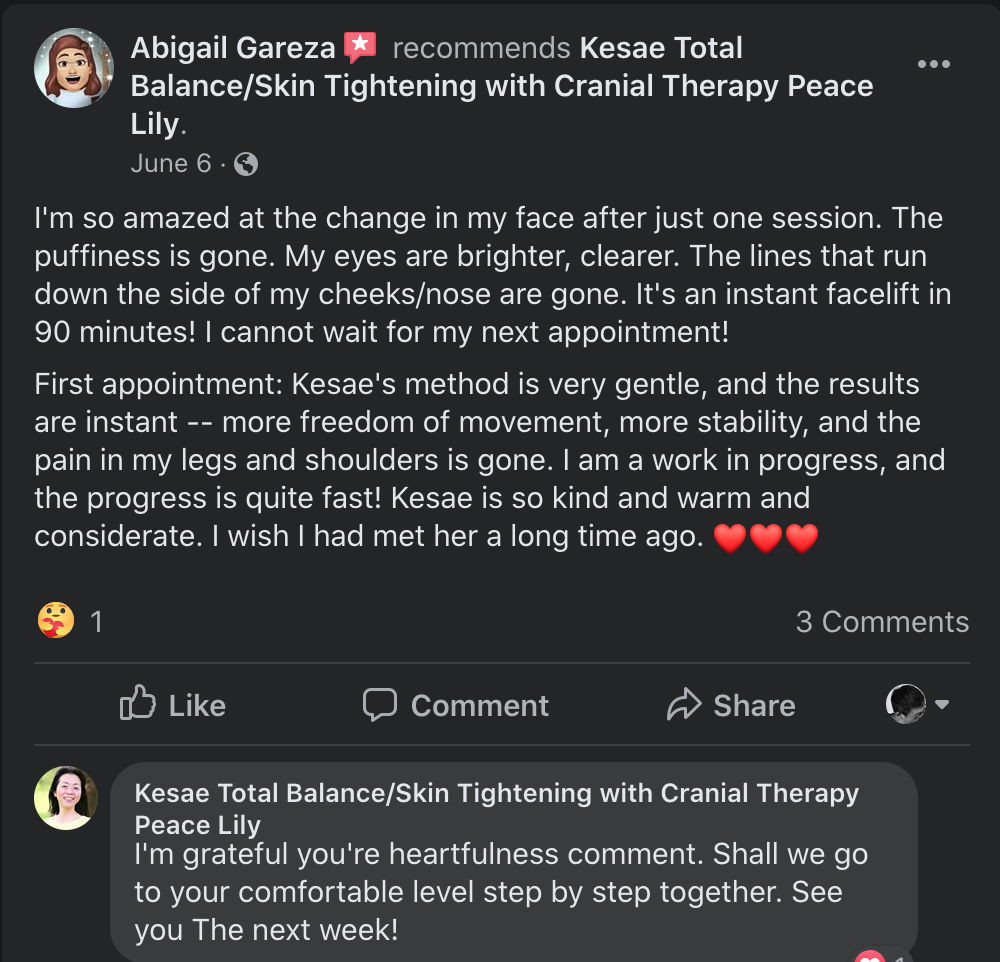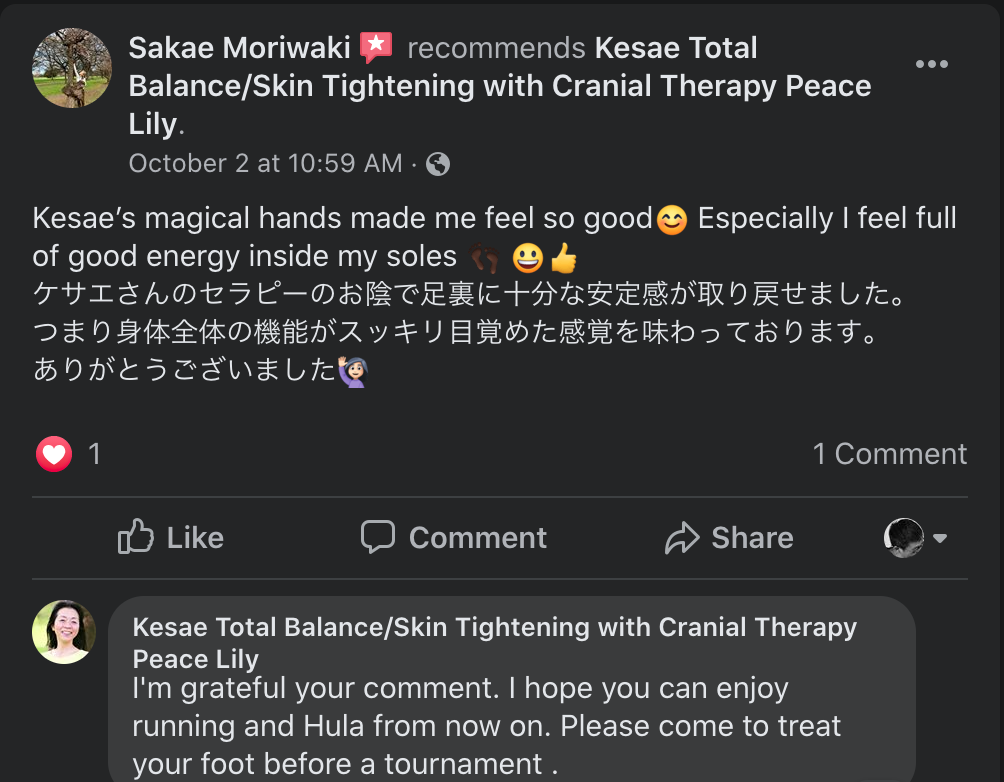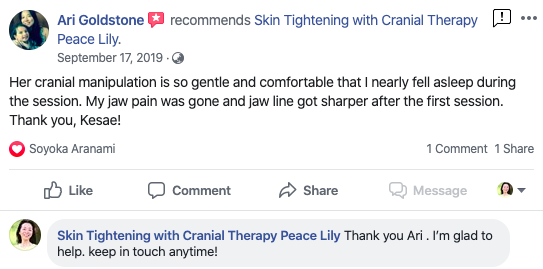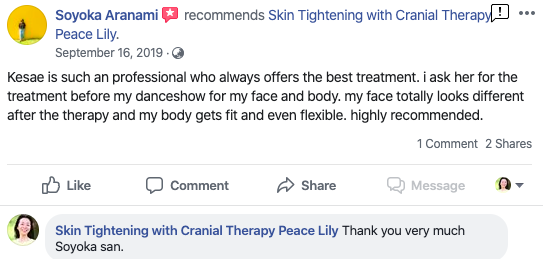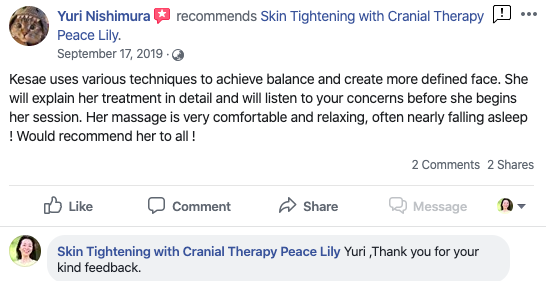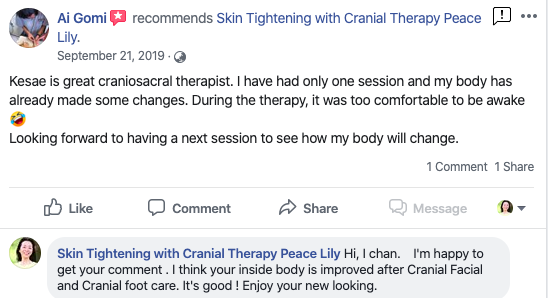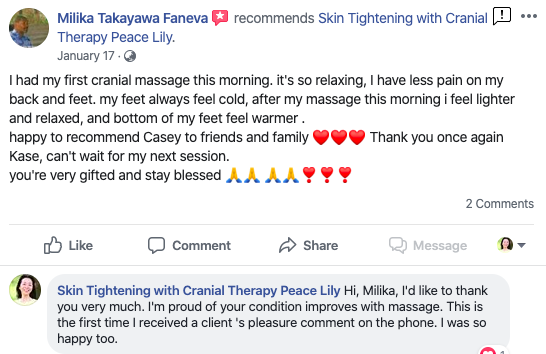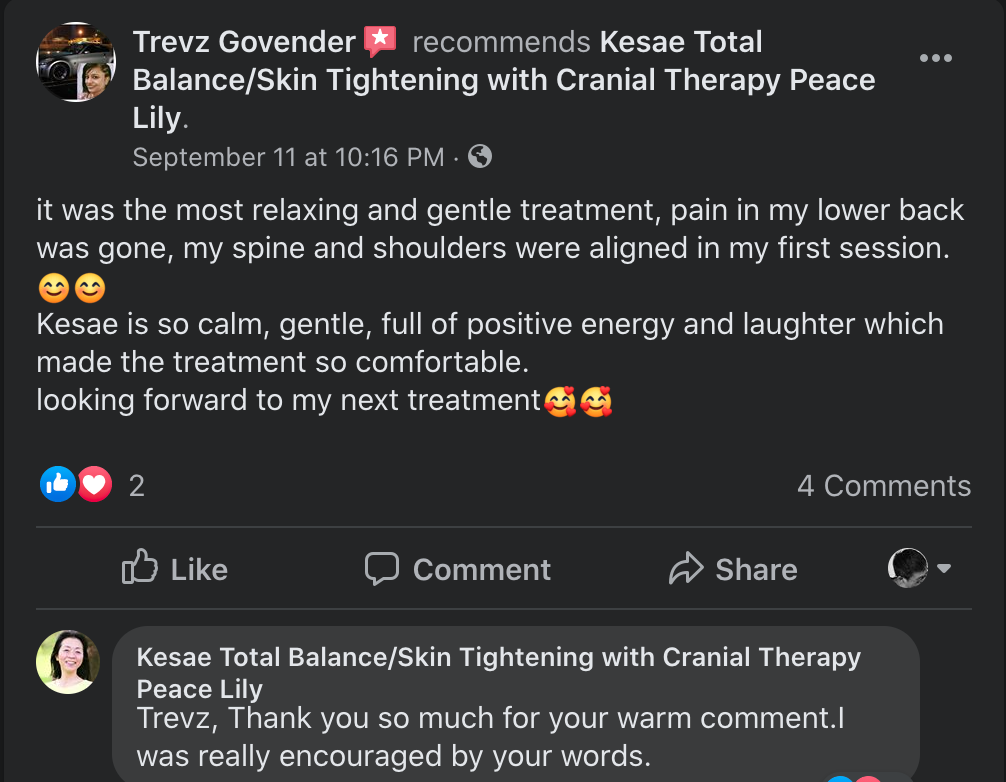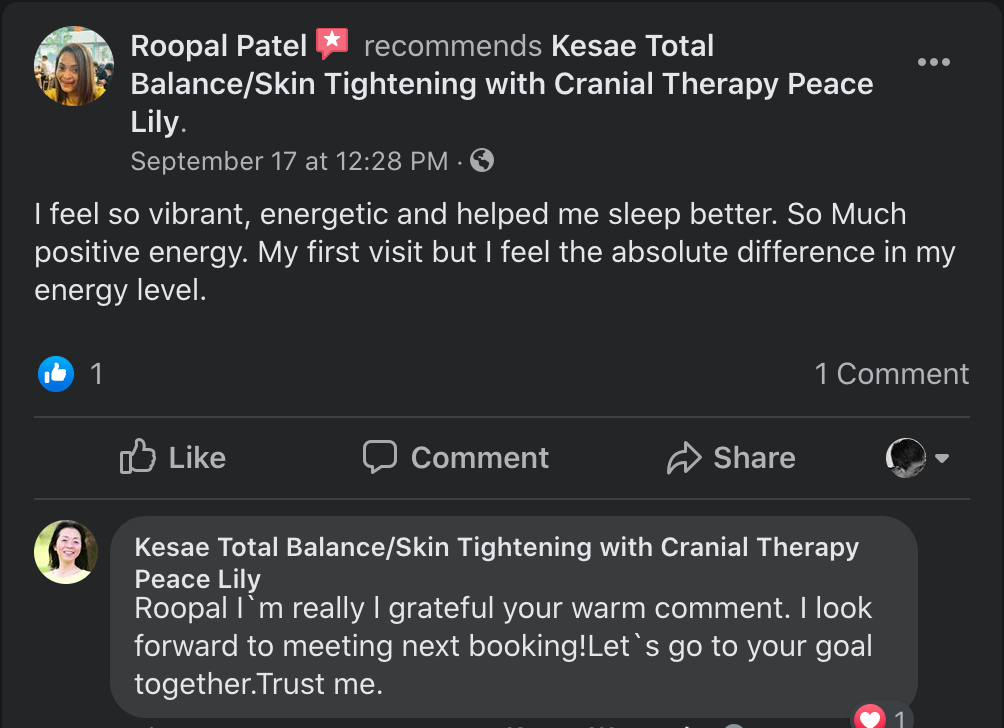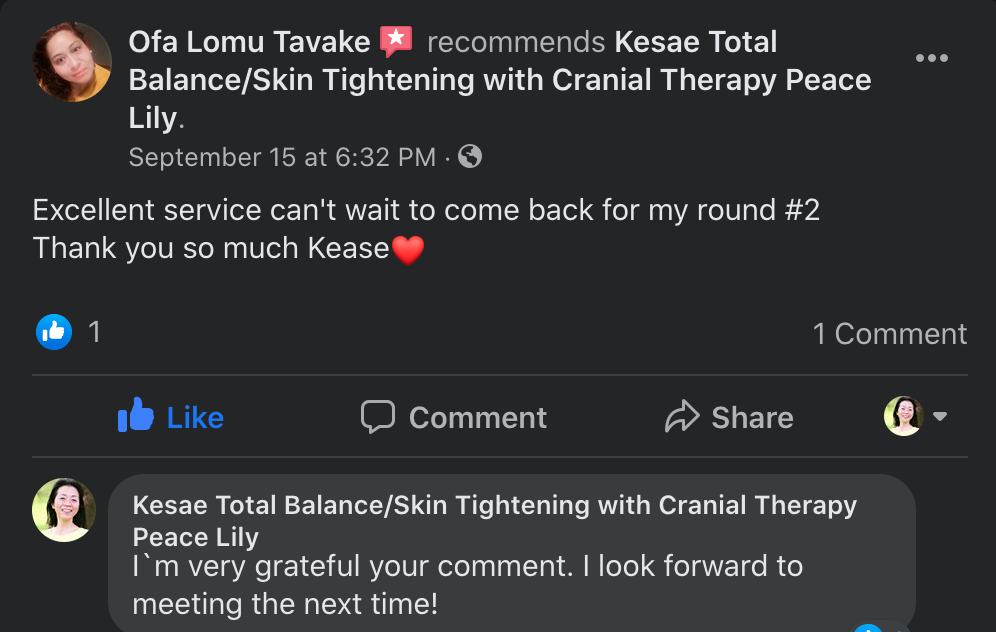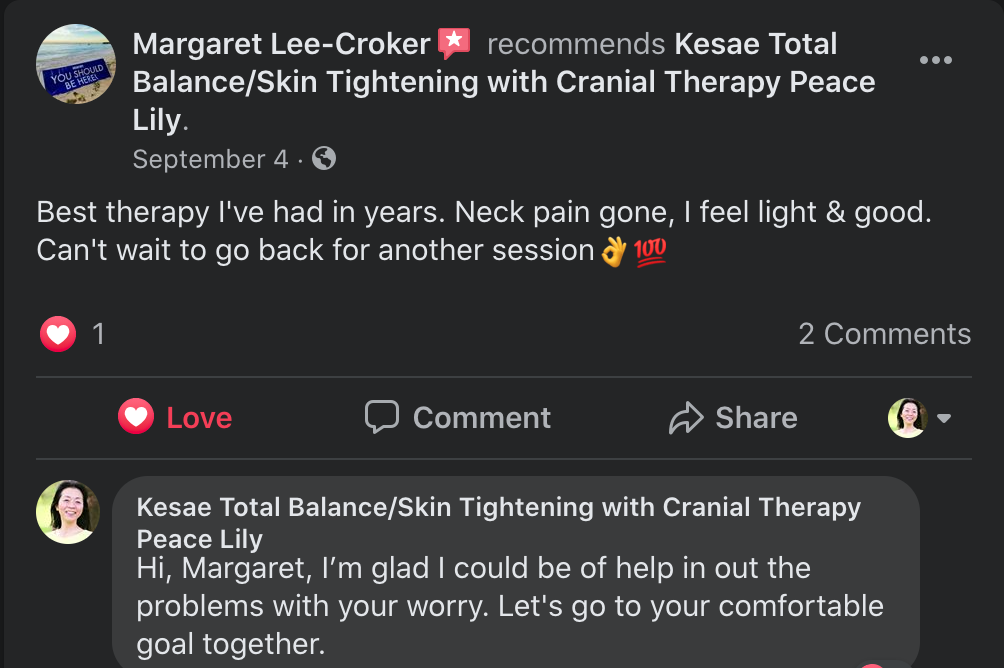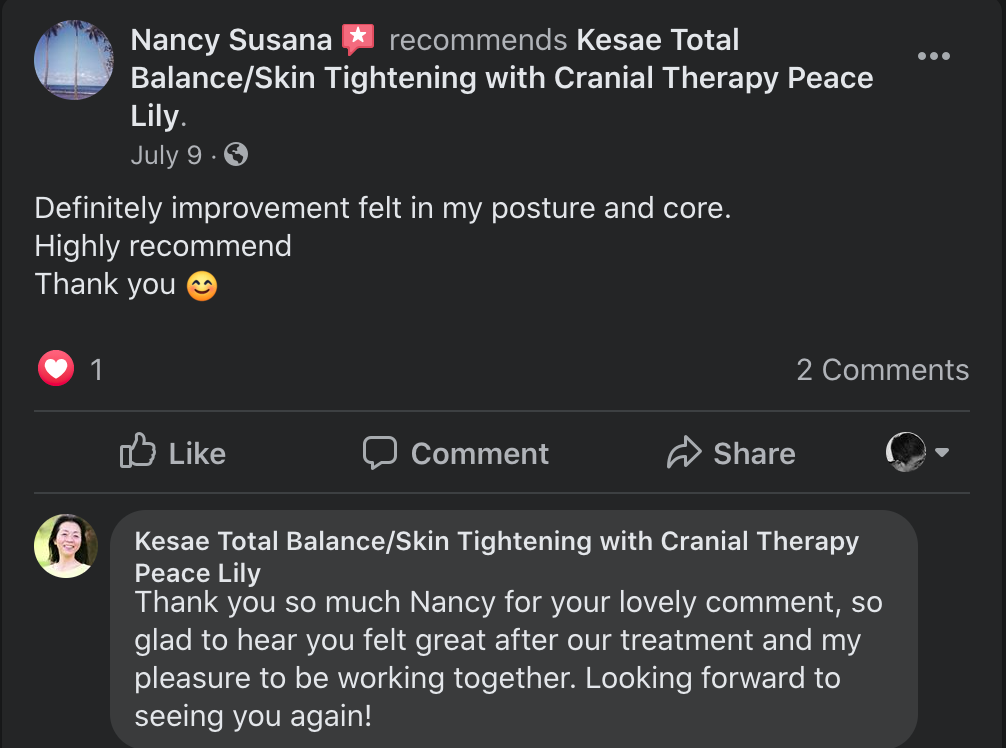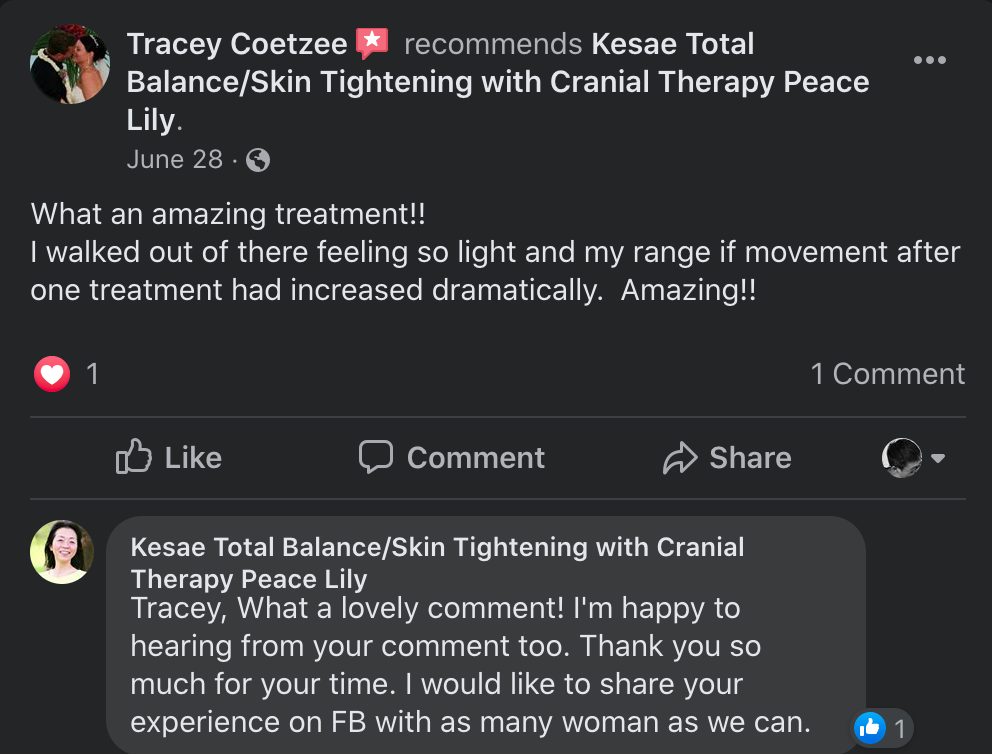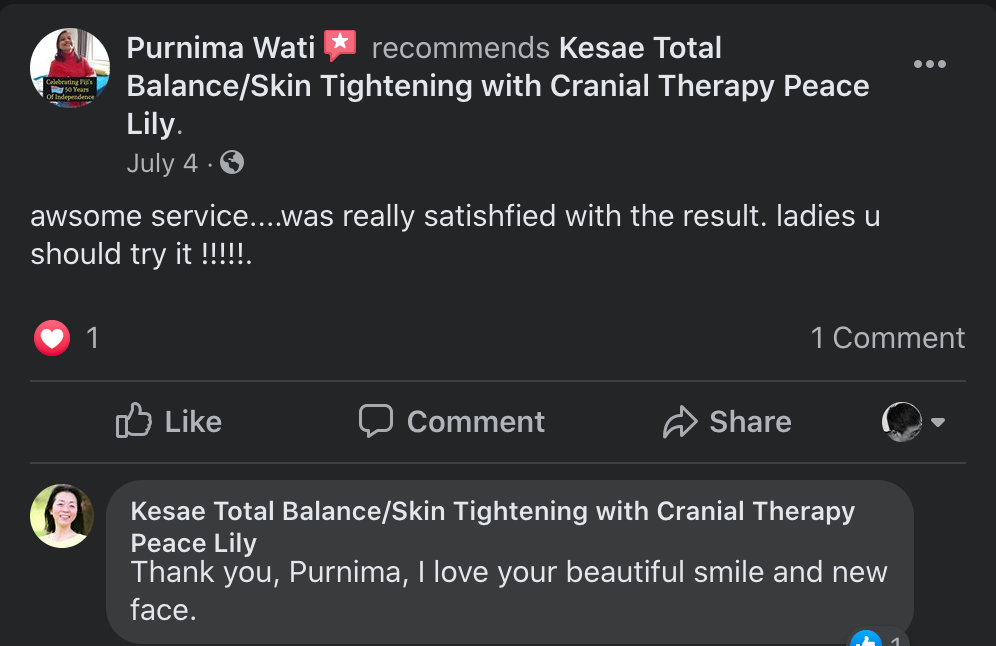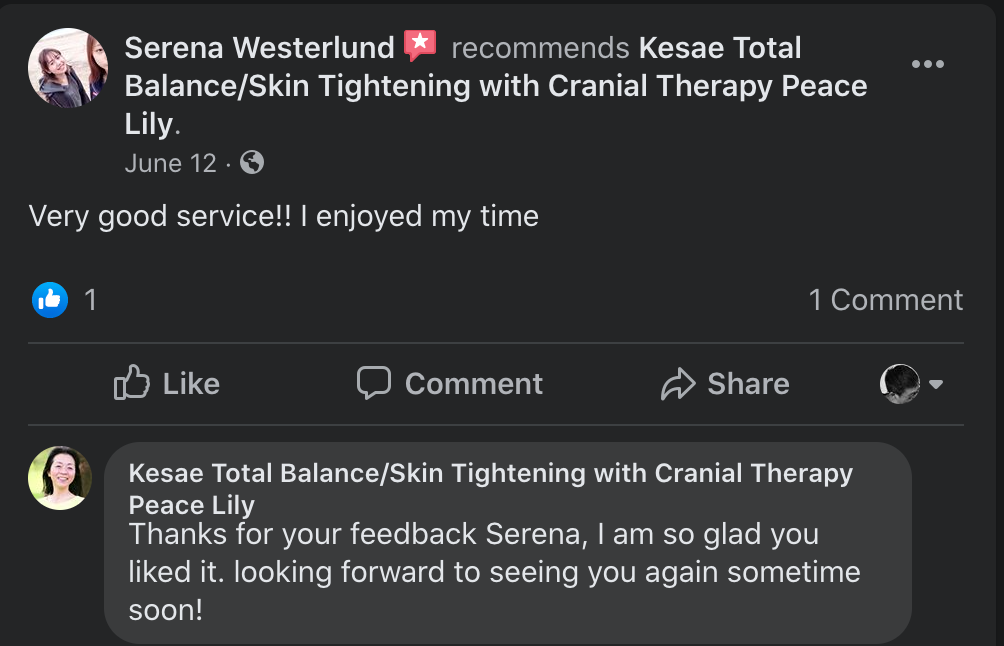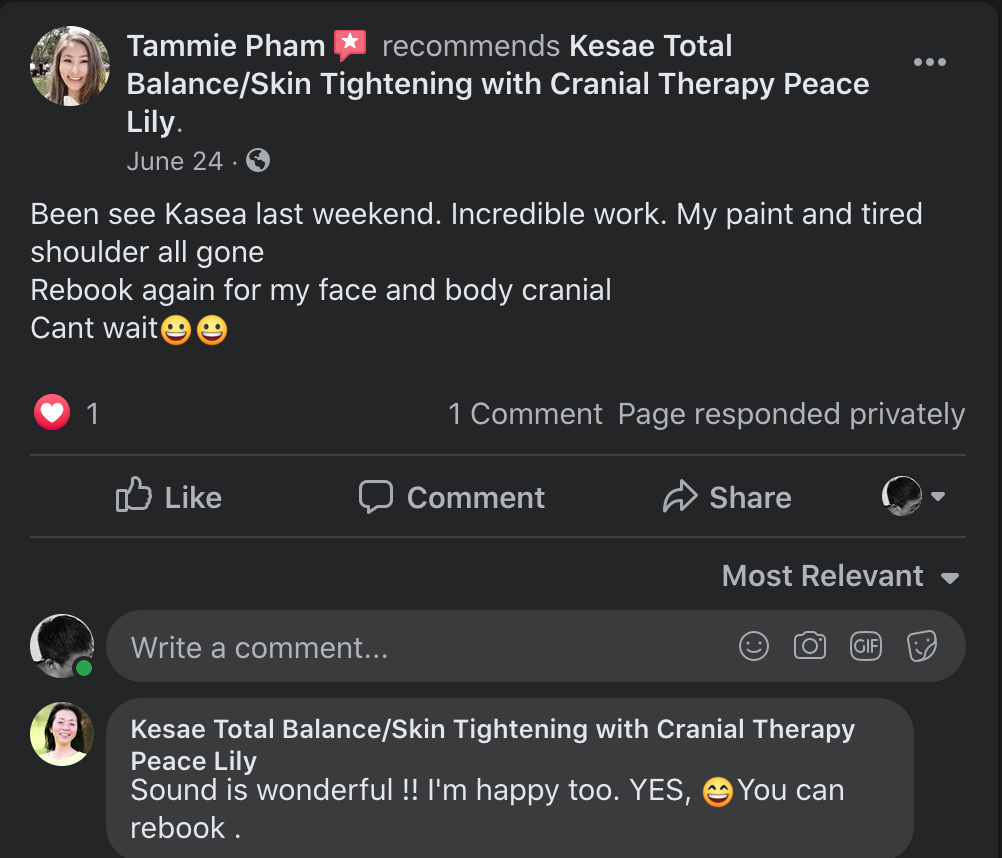 Our Therapists
In 1998 Kesae Watanabe set out to learn "小顔矯正(Corrective Beauty Therapy)" through Cranial Therapy in Tokyo and in 2000 she moved to Auckland to join her husband who had moved to the city for work.
Through communication with her client, she found women's concerns haven't changed since twenty years ago, despite the emergence of new high-tech products and technologies, an expert technique developed year after year.
She found that many massage therapists possessed expert techniques, but not many offered a combination of technique and inner force. The powers of a Cranial massage that gives from the heart far surpass the benefits of technique alone.
Kesae's Massage is an "Inner Beauty" Salon that addresses the concerns of mature women from the inside. That is because "Beautiful Skin" and "Confidence" are like two sides of a coin.
As physiologic functions start to work correctly, the turnover of skin gets back into a regular cycle, stabilising the skin quality. Whether the vital force of the body is flowing smoothly or being blocked somewhere will all appear on your skin as a "voice" from the inside. Kesae's Massage is a place that enables a realignment of your body to create resilient and moist skin that your hand naturally reaches to feel many times a day.
You can rely on us to make you beautiful inside as well as outside for you.
To Make A Booking or Contact Us
Please contact us from one of those options below:
To make a booking by Phone